Optional 1 Sarus Crane & Jerdon's Babbler Extension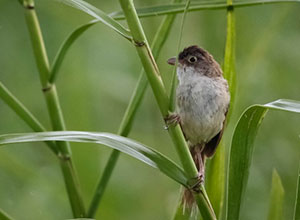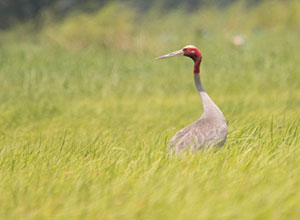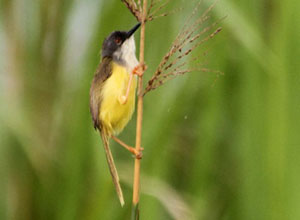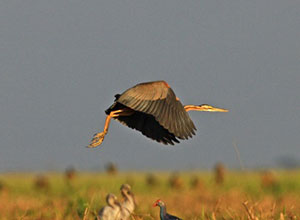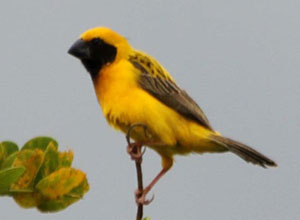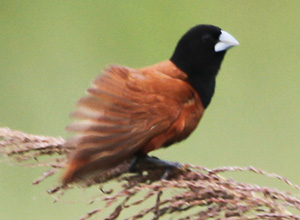 " Sarus Crane and Jerdon's Babbler expectation is designed for any bird watcher who has not much time to make birding tour in Myanmar. And also we do recommend this tour for some birders who have already been for their short trip in Yangon. If you have time for your birding at the week end, we do recommend this 2 days / 1 night tour from Yangon".
In our experiences, you have good chance to see Sarus Crane and Jerdon's Babbler on this tour. Not only these two birds, but also, Cotton Pygmy-Goose, Little Grebe, Asian Openbill, Glossy Ibis, Yellow Bittern, Pound-Heron, Eastern Cattle Egret, Grey Heron, Purple Heron, Great Egret, Intermediate Egret, Little Egret, Little Cormorant, Oriental Dater, Black Baza, Black-shouldered Kite, Black-eared Kite, Eastern Marsh-Harrier, Grey-headed Swamphen, Common Moorhen, Pacific Golden Plover, Little Ringed Plover, Pheasant-tailed Jacana, Bronze-winged Jacana, Common Snipe, Marsh Sandpiper, Wood Sandpiper, White-winged Tern, Whiskered Tern, Brown-headed Gull, Rock Pigeon, Red Collared-Dove, Spotted Dove, Yellow-footed Green- Pigeon, Plaintive Cuckoo, Lesser Coucal, Asian Palm-Swift, Indian Roller, White-throated Kingfisher, White-throated Kingfisher, Common Kingfisher, Little Green Bee-eater, Blue-tailed Bee-eater, Coppersmith Barbet, Common Iora, Black Drongo, Brown Shrike, Long-tailed Shrike, Olive-backed Sunbird, Baya Weaver, Asian Golden Weaver, White-rumped Munia, Eurasian Tree-Sparrow, Jungle Myna, Common Myna, Chestnut-tailed Starling, Eastern Stonechat, Pied Bushchat, Oriental Magpie-Robin, Streak-eared Bulbul, Red-whiskered Bulbul, Common Sand-Martin, Barn Swallow, Red-rumped Swallow, Dusky Warbler, Black-Browed Reed-Warbler, Oriental Reed-Warbler, Zitting Cisticola, Common Tailordbird, Plain Prinia and any other like Yellow Breasted Martin could be seen on this trip.
Map and Itinerary (Sarus Crane & Jerdon's Babbler Extension )
Yangon – Maubin –Pandanaw-Shwelaung-Eimae-Yangon (2 Days / 1 Nights)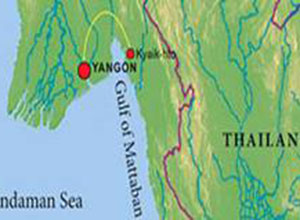 Day 1. Yangon – Maubin - Pandanaw
Day 2. Pandanaw – Shwelaung – Eimae – Yangon
Day 1. Yangon – Maubin - Pandanaw
After breakfast at your hotel, check out from your hotel and drive to Maubin for about one and half hours. You will have good time for your morning birding around Maubin for Sarus Crane first. After lunch at a local restaurant, continue to Pandanaw. After check in at a hotel in Pandanaw and take a short rest, evening birding will in Pandanaw. Dinner will be a local restaurant and night stop will be at the hotel in Pandanaw.
Day 2. Pandanaw – Shwelaung – Eimae – Yangon
In the early morning, start drive to Shwelaung and Eime for Jerdon's Babbler. It is our key specie for today. Not only for that one but also we can fine some water birds around the way. After morning birding, have lunch at Pandanaw and drive back to Yangon. If time permit, we can make some birding stop on the way back. On your arrival at your hotel it will be at the end of Sarus Crane and Jerdon's Babbler Extension.