Myanmar's All Endemic Birds Expedition (7 Days/6 Nights )
Yangon - Bagan - Mt.Victoria - Bagan - Yangon
Day 1. Yangon – Bagan by flight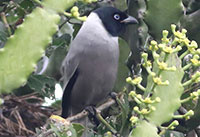 In the morning, transfer to airport for our flight to Bagan. On your arrival at Bagan, start biding for Myanmar endemic species such as White-throated Babbler, Burmese Bushlark, Jerdon's Minivet, Hooded Treepie, Burmese Collared-dove and Ayeyarwaddy Bulbul (Streak-eared Bulbul). After lunch at a restaurant, check in hotel for a short rest to see other key birds are Laggar Falcon, Yellow-eyed Babbler, Long-billed Pipit, Vinous-breasted Myna, Brown Prinia, Burmese Shrike, Rain Quail, Barred Button Quail, Chinese Francolin, Plain-backed, Russet and house Sparrows, Sported Owlet and Barn Owl and Indian Nightjar, Common and Jungle Mynas, Green and Blue-tailed Bee-eater, Common Hoopoe and Indian Roller. Over 135 species are recorded in Bagan. In the evening, dinner will be served at a restaurant and overnight will be the hotel in Bagan.
Day 2. Birding around Bagan & Ayeyarwaddy River by boat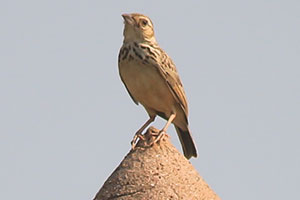 We will do morning biding among the temple around Bagan for some important rest species. In the afternoon, we will take a private boat for birding along the river Ayeyarwaddy for half day birding. On the river, we can see Ayeyawaddy Bulbul (Streak-eared Bulbul), White-tailed Stonechat, Striated Babbler, Sand Lark, Plovers, Wood Sandpiper, Temminck's Stint, White, Yellow and Citrine Wagtails, River Lapwing, Grey-headed Lapwing, Red-wattled Lapwing. Pied, Common and White-throated Kingfishers, Pied Harrier, Eastern and Western Marsh-harriers and other Raptors, Small and Oriental Pratincoles, Great Cormorants, Indian Spot-billed Ducks, Ruddy and Common Shelducks, Oriental Skylark. Black-bellied Tern and River Tern are recorded in Ayeyarwaddy. In the evening, enjoy the sunset on boat and drive back to Bagan. Dinner will be a restaurant and overnight stay will be at the same hotel.
Day 3 . Bagan – Kanpalat, Mt. Victoria by car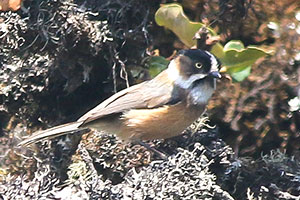 After breakfast at hotel, start drive for our birding trip to Mt.Victoira. After about one and half hour driving, we will be on the other site of the Ayeyarwaddy river and start birding. Before lunch, we will make some birding stops for Long-billed Pipit, White-rumped Falcon, Hooded Treepie, Rufous Treepies and Chestnut-bellied and Burmese Nuthatch and others on the way to Mt.Victoria.
Lunch stop will be at a small local restaurant at Aigyi village. After lunch, continue to Kanpalat and make en route stops at Nagapwat and Swa for Great Slaty Woodpeckers, White-bellied Woodpeckers, Pale-headed Woodpeckers, Black-headed Woodpeckers, Greater and Lesser Yellownape, Common and Himalayan Flameback, Greater Flameback, Grey-headed, Sported-breasted and Bamboo Woodpeckers. Alexandrine, Grey-headed, Blossom-headed and Red-breasted Parakeets, Red-headed Trogon, Grey-throated Babbler, Pin-Striped Tit-babbler, Blue-throated, Asian Brown, Dark-sided, Asian Paradise, Little pied and Verditer Flycatchers, Streaked Spiderhunter, Scarlet-backed and Yellow-vented Flowerpeckers, Brown-cheeked Fulvettas, Lineated Barbet, , Swinhoe's, Scarlet, Rosy, Ashy and Small Minivets. Blue-winged and Golden-fronted Leafbirds, Blue Rock Thrush will be found on the half day.
In the evening, arrive at Kanpalat and check in hotel which lines among the pine forest for your night stop. Dinner and overnight will be at the resort.

Day 4. Birding around Mt. Victoria National Park by car and trekking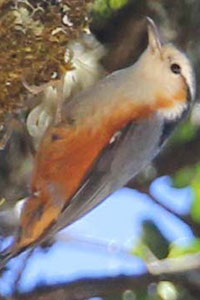 Today, we will start our birding in the early by driving to reach above 7000ft for two endemic species and most important key species of Mt. Victoria. After driving about 45 minutes for about 8 miles, we will start our birding for target species – White-browed Nuthatch (Endemic), Burmese Tit (Endemic), Black-bibbed Tit, Black-headed Shrike-babbler, Green Shrike-babbler, Yellow-billed Blue Magpie, Grey Sibia, White-browed Fulvetta, Brown-capped Laughingthrush, Mount Victoria Babax, Himalayan Cutia, Crimson-breasted and Darjeeling Woodpecker, Streak-breasted Scimitar-babbler, Spot-breasted Parrotbill, Rufous-winged Fulvetta, Indian Blue Robin and Yellow-bellied Flowerpecker.
After lunch stop with lunch box, continue our birding trip for other species such as - Chestnut-headed Tesia, Long-tailed, Short-billed, Grey-chinned Minivet, Chestnut-bellied Rock Thursh, Blue-fronted Redstart, Large Niltava, Rufous-gorgetted Flycatcher, Himalayan Bluetail, Yellow-bellied Fantail, Stripe-throated and Whiskered Yuhina, Golden-throated and Great Barbet, Bar-tailed Treecreeper, Chestnut-vented Nuthatch, Bar-throated and Red-tailed Minla, Blue-winged Siva, Rufous-bellied and Stripe-breasted Woodpecker, Maroon Oriole, Black Eagle, Himalayan Buzzard, Fire-tailed Sunbird and other birds. In the evening, we will drive back to our hotel to take a rest again.
Today, we will be around Mt. Victoria based camp which lies on 8000ft from the sea level. We will make a lunch stop at good place and take a short rest by having lunch.

Day 5. Birding around Mt. Victoria National Park by car and trekking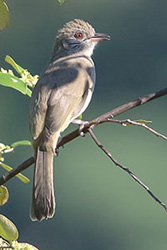 Today we will be between 5000ft and 6000ft. After making a short drive from our hotel, we will start our birding for our target Species – Chin Hills Wern-babbler, Black-throated Prinia, Hume's Treecreeper, Striped Laughingthrush, Crimson-faced Liocichla, Yellow-breasted Greenfinch, Fire-breasted Flowerpecker, Rusty-fronted Barwing, Streak-throated Barwing and White-browed Shrike-babbler, Slender-billed Oriole, Hill Blue Flycatcher, Golden Babbler, Green-backed Tit, Black-throated Tit, Eurasian Jay, Grey Treepie, Flavescent Bulbul, Sliver-eared Mesia, Green-tailed and Mrs Gould's Sunbird, and other birds.
In the afternoon, we will do flexible birding for rest important species which we didn't see on the previous day. Our professional birding guide will suggest today birding program on tour. In our experiences, all birding site at this national park will start from 5000ft and most habitats are not very different. All species can be found anywhere in the park. Only a few species will see above 7000ft like White-browed Nuthatch. So, it is better to decide for birding sites for today on the field. And also all birding spots in the park are not more than one and half hours driving from your hotel. On this birding tour, following birds could be found within two days. Dinner and night stop will be at the same hotel.
Mt. Victoria Bird list
Myanmar's endemic White-browed Nuthatch and Burmese Tit are must see species in Mt. Victoria. Key birds are Mount Victoria Babax ( split from Chinese Babax), Black-headed Shrike-babbler, Chin Hills Wren-babbler, Himalayan Cutia, Spot-breasted Scimitar-babblers, Sickle-billed Scimitar-babblers and Large Scimitar-babbler, White-browed Shrike-babbler, Green Shrike-babbler, Sported Wren-babbler, Brown-capped Laughingthrush, Black-bibbed Tit, Fire-capped Tit, Crested Finchbill, Yellow-billed Blue Magpie, Yellow-bellied Flowerpecker, Black-throated Prinia, Brown Bush-warbler, Black-throated Prinia ( Hill Prinia ).Himalayan, Long lagged, Common and Oriental Honey-buzzard, Black Eagle and Mountain Hawk-eagles, Oriental Hobby, Collared Falconet, Eurasian Sparrowhawk, Crested Goshawk and any other Raptors, Ashy Woodpigeon, Mountain Imperial-pigeon, Yellow- footed, Wedge-tailed and any other Green-pigeons, Large Hawk, Hodgson's Hawk, Eurasian and other Cuckoos, Great, Golden-throated, Lineated and Blue-throated Barbets, Rufous-bellied, Stripe-breasted, Crimson-breasted, Darjeeling and Bay Woodpeckers, White-browed, Black-eared, Chestnut-fronted and Green Shrike-babblers, Small, Grey-chinned, Short-billed, Long-tailed and Scarlet Minivets, Slender-billed and Maroon Orioles, Yellow-bellied and White-throated Fantails, Eurasian Jay, Red-billed Blue Magpie, Gray Treepie, Crimson, Mrs Gould's, Fire-tailed and Green-tailed Sunbirds, Yellow-breasted Greenfinch, Scarlet Finch, Common-rose Finch, Brown-bullfinch, Spot-winged Grosbeak, Chestnut and Little Bunting.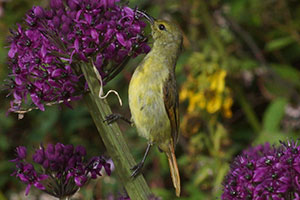 Bar-tailed and Hume's Treecreepers, White-tailed and Chestnut-vented Nuthatches, Scaly, Eyebrowed Thrush, Grey-sided Thrush and Blue Whistling-thrush, Indian-blue Robin, Himalayan Bluetail, Grey Bushchat, Black Redstart, Blue-fronted Redstart, White-tailed, Ultramarine, Little Pied, Rufous-gorgeted, Dark-sided, Slaty-blue and Taiga Flycatchers, Large and Rufous-bellied Niltava, Japanese Tit, Green-backed Tit and Yellow-cheeked Tit, Striated, Sooty-headed, Mountain, Flavescent, Himalayan Black Bulbuls, Aberrant, Brown, Brownish-flanked Bush-warblers, Mountain Tailorbird, Grey-billed, Slaty-bellied, Chestnut-headed Tesias, Black-faced, Whistler's, Grey-crowned, Chestnut-crowned, Buff-barred and other Warblers, Buff-breasted (Blacked Throated), Sport-breasted and Grey-headed Parrotbills, White-browed, Rusty-capped, Nepal and Streak-throated Fulvettas, Whiskered, Striated and Stripe-throated Yuhinas, Streak-breasted and White-browned Babblers, Blue-winged, Assam (slit from Chestnut-crowned), Striated, Striped, Lesser and Greater Necklaced Laughingthrushs and Crimson-faced Liocichlas, Blue-winged Siva, Bar-throated (Chestnut-tailed), Red-tailed Minlas, Silver-eared Mesia, Grey and Dark-backed Sibias, Streak-throated and Resty-fronted Barwings are must see species there.
If you are lucky, Blyth's Tragopan, Kalij Pheasant, Mrs Hume's Pheasant, and any other Partridges, Hodgson's Frogmouth, Grey Nightjar and owls will be seen. Over 350 species are already recorded.
Day 6. Kanpalat – Bagan by car
After breakfast, we will check out from the hotel and drive back to Bagan. On the way, your guide will suggest to make some birding stops for rest species. Lunch on the way and you will arrive at the hotel at sunset time in Bagan. Night stop will be at the hotel in Bagan.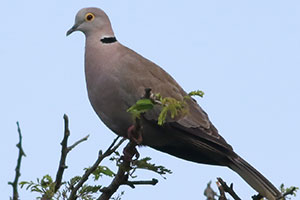 Day 7. Bgan – Yangon by flight
After leisure breakfast, transfer to Nyaung U airport for your flight to Yangon. On your arrival time at Yangon, you can continue for your city sightseeing for half day cultural tour which inclusive of Shwedagon pagoda, it is the most popular land mark of Myanmar and beautifully majestic pagoda all over the world. Lunch will be at a restaurant in Yangon. Walking among the beautiful colonial style buildings and visit 2000 year old Sule pagoda will be highlight of sightseeing. In the evening, check in hotel and take a rest at your hotel. Dinner will be at a restaurant and overnight will be at a hotel in Yangon. It will be at the end of your unforgettable wonderful birding holiday days with Travel Expert's birding team.