Free & Easy Birding tour in Myanmar 9 Days / 8 Nights
Yangon - Hlawgar Park - Moeyingyi wetland - Kalaw - Inle Lake - Bagan - Ayeyarwaddy River - Yangon
Day 1 . Yangon – Hlawgar – Moeyingyi by car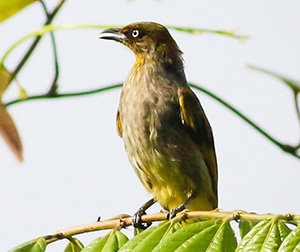 On your arrival at Yangon International Airport, one of our company representatives will meet you to pick you up to Hlawgar National Park for about 40 minutes. We will make half day morning birding at Hlawgar park to watch Myanmar's endemic White- throated Babbler & Ayeyawaddy Bulbul (Streak-eared Bulbul), Davison's Bulbul ( Striped-throated Bulbul), Pale-capped Pigeon, Racket-tailed Treepie, Rosy Minivet, Puff-throated Babbler, Yellow-eyed Babbler, Chestnut-capped Babbler, White- crested Laughingtrush, Lesser Necklaced Laughingtrush, Dollarbird, Red-breasted Parakeed, Alexandrine Parakeed and Grey-headed Parakeed, Plaintive Cucko, Forest Wagtail, Greater and Lesser Coucals, Ruby-cheeked Sunbirds, Olive-backed Sunbird, Scarlet-backed Flowerpecker, Black-capped Kingfisher, White-throated Kingfisher, Common Kingfisher, Brown Crake, Lesser Whistling- duck, Common Moorhen, Red-wattled Lapwing, Oriental Darter, Little Grebe, Little Cormorant, Great Cormorant, Asia Openbill, Coppersmith Barbet, Lineated Barbet, Green-billed Malkoha, Greater and Lesser Racket-tailed Drongon, White-rumped Shama, Black-crested, Red-whiskered, Red-vented and Black-headed Bulbuls, Dark-necked Tailorbird, Common Tailorbird, White-rumped and Scaly-breasted Munias. There are about 100 species in the park.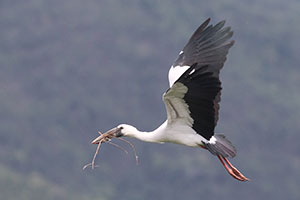 After lunch at a local restaurant, we will continue drive to Moeyingyi wetland for about one and half hours. On your arrival at Moeyingyi Boat house, check in first for a short rest and make afternoon birding in the wetland by a boat. We will see some migration bird and Yellow-bellied Prinia, Asian Golden Weaver, Glossy Ibis, Asian Openbill, Oriental Darter, Black-crowned Night-heron, Little Tern, Yellow Bittern, Cinnamon Bittern, Lesser whistling Duck, Cotton Pygmy Goose, Northern Pintail, Ferruginous Pochard, Black-capped and Common Kingfisher, Blue-eared Kingfisher, Green Sandpiper and Common Sandpiper, Wood Sandpiper, Pheasant-tailed and Bronze-winged Jacanas, Black-winged Stilt, Little Ringed Plover, Pintail Snipe, Common Snipe, White-breasted Waterhen, Watercock, Purple Swamphen and Common Moorhen, Black-shouldered Kite, Black Kite, Black-eared Kite, Western Marsh-harrier and Eastern Marsh-harrier, Hen Harrier, Pied Harrier. Over 135 species are recorded at Moeyingyi Wetland. Dinner and overnight will be at the boat house.
Day 2. Moeyingyi – Yangon by car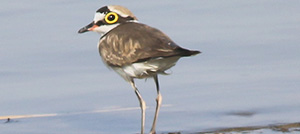 In the morning, we will make morning birding by boat on the lake. After breakfast at the boat house, we will do half day birding for rest species by boat again. After birding at Moeyingyi, we will drive back to Yangon. We will have lunch on the way back. In the late afternoon, check in hotel at Yangon to take a rest for a night.
Day 3. Yangon – Kalaw by flight
After breakfast at the hotel, transfer to airport for your flight to Kalaw. On your arrival at Heho airport, we will drive to kalaw for one hour. On the way, you can make some stops for birding. Lunch will be at a restaurant in Kalaw. After lunch, check in hotel and take a short rest. In the afternoon, we will start our half day birding tour by a private car and walking. Dinner will be at a restaurant and overnight stay will be at the hotel in Kalaw.
Day 4. Kalaw Full day birding by trekking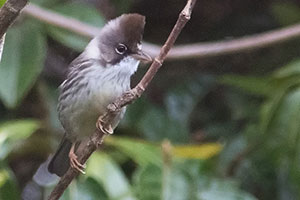 It will be full day birding around Kalaw with lunch box. After breakfast, we will make short drive to the birding sport nearby Yeaye lake and start our full day birding by trekking in the forest mountain. Today is one of the main highlights of the tour and we will see Dark-backed Sibia, Burmese Yuhina, Indochinese Black-winged Cuckooshrikes, Speckled Piculet, White-browed and Rusty-cheeked Scimitar-babblers, White-browed and Green Shrike-babblers, Hume's Treecreeper, Lesser Necklaced , Black-throated , White-browed Laughingthrushs, White-crowned and Black-backed Forktails, Wedge-tailed, Yellow-footed and Pin-tailed Green-pigeons, Mrs Gould's, Black-throated and Green-tailed Sunbirds, Little Pied, Hill-blued and Tickell's Blue , Pale Blue, Brown-breasted, Taiga, Ultramarine and Grey-headed Canary-flycatchers, Blue-winded and Golden-fronted Leafbirds. Red-billed Blue Magpies, Himalayan, Rufous-winged and Long-legged Buzzards, Spectacled Barwing, Chestnut Bunting and Black-headed Greenfinch, White-tailed Robin, Silver-eared Mesias, White-capped Water-redstart, Black-tailed Crakes, Grey-cheeked Fulvetta. Himalayan Black, Red-vented, Ashy, Brown-breasted, Black-headed and Flavescent Bulbuls and Crested Finchbill could be seen. Slender-billed, Black-hooded and Maroon Orioles, Black-collared, Asian Pied, Chestnut-tailed Starlings, Black-throated, Japanese [Great], Yellow-cheeked Tits, Long-tailed Broadbill, Slaty-bellied and Chestnut-headed Tesias, Black-breasted, Orange-headed, Blue Rock and other Thrushes, Warblers and winter visitors will be seen today also. If you are lucky, you will see Giant Nuthatch but it is very rare to see. There will be over 250 species in total in Kalaw. In the late evening, drive back to hotel for your dinner and night stop.
Day 5. Kalaw – Inle Lake by car and boat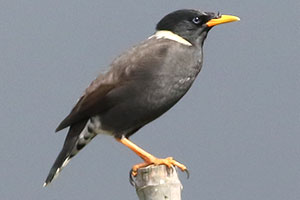 After breakfast at the hotel, start drive to Inle lake. On the way, we will make morning birding for some rest species and have a lunch at a restaurant. In the afternoon, arrive at Inle lake and check in hotel. After take a short rest at the hotel, start birding around the lake for key species - Jerdon's Bushchat, Collared Myna and Chinese/Rufous-rumped Grassbird and other species. In the evening, drive backe to hotel and enjoy the sunset by boat. Dinner and overnight stop will be at the hotel.
Day 6 Full day birding tour on the lake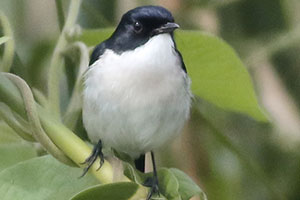 In the early morning, start our birding for rest main key species which we didn't see on previous afternoon. Today we will see rest key species with White-vented, Crested, Common and Jungle Mynas, Blue-throated, Clamorous and Oriental Reed-warblers, Plain Prinia ,Yellow-bellied Prinia, Striated Grassbird, Easten Stonechats, Purple Swamphen, Common Coot, Common Moorhen, Ruddy-breasted and Black-tailed Crakes, Pheasant-tailed and Bronze-winged Jacanas, Cinnamon and Yellow Bitterns, Sport-billed Ducks, Gulls, Egrets and Pond-herons, Swamphen, Glossy Ibis, Northern Pintail, Gray-headed Lapwing, Marsh Sandpiper, Common and Pintail Snipe, Red Avadavat, Scaly-breasted Munia, Yellow Wagtail, Citrine Wagtail, White Wagtail and other species could be seen by boat within a day. There will be morethan 100 species on the lake. Sarus Crane is recorded and it very rare to see on the lake. If you prefer to make cultural sightseeing by visiting some tourism highlights, our professional guide will suggest the detail sightseeing and will adjust the itinerary. In the late evening, drive back to your hotel for your dinner and overnight stay at the hotel.
Day 7. Inle Lake – Bagan by flight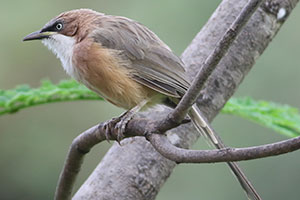 In the morning, transfer to Heho airport for our flight to Bagan. Birding along the way to Heho airport will be done if time permit. On your arrival at Bagan, start biding in Bagan for Myanmar endemic species such as White-throated Babbler, Burmese Bushlark, Jerdon's Minivet and Hooded Treepie, Burmese Collared-dove, Ayeyarwaddy Bulbul (Streak-eared Bulbul). After luch at a restaurant, check in hotel for a short rest to see other key birds are Laggar Falcon, Yellow-eyed Babbler, Long-billed Pipit, Vinous-breasted Myna, Brown Prinia, Burmese Shrike, Rain Quail, Barred Button Quail, Chinese Francolin, Plain-backed, Russet and house Sparrows, Sported Owlet and Barn Owl and Indian Nightjar, Common and Jungle Mynas, Green and Blue-tailed Bee-eater, Common Hoopoe and Indian Roller. Over 135 species are recorded in Bagan. In the evening, dinner will be served at a restaurant and overnight will be the hotel in Bagan.
Day 8. Birding around Bagan & Ayeyarwaddy River by boat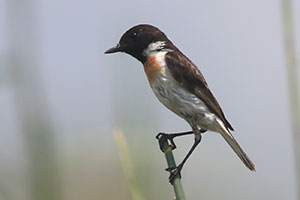 We will do morning biding among the temple around Bagan for some important rest species. If you want to make cultural sightseeing in Bagan, we do recommend to make it after morning birding. In the afternoon, we will take a private boat for birding along the river Ayeyarwaddy for half day birding. On the river, we can see Ayeyawaddy Bulbul (Streak-eared Bulbul), White-tailed Stonechat, Striated Babbler, Sand Lark, Plovers, Wood Sandpiper, Temminck's Stint, White, Yellow and Citrine Wagtails, River Lapwing, Grey-headed Lapwing, Red-wattled Lapwing. Pied, Common and White-throated Kingfishers, Pied Harrier, Eastern and Western Marsh-harriers and other Raptors, Small and Oriental Pratincoles, Great Cormorants, Indian Spot-billed Ducks, Ruddy and Common Shelducks, Oriental Skylark. Black-bellied Tern and River Tern are recorded in Ayeyarwaddy. In the evening, enjoy the sunset on boat and drive back to Bagan. Dinner will be a restaurant and overnight stay will be at the same hotel.
Day 9 . Bgan – Yangon by flight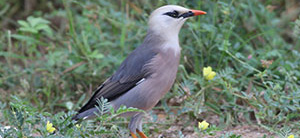 After leisure breakfast, transfer to Nyaung U airport for your flight to Yangon. On your arrival time at Yangon, you can continue for your city sightseeing for half day cultural tour which inclusive of Shwedagon pagoda, it is the most popular land mark of Myanmar and beautifully majestic pagoda all over the world. Lunch will be at a restaurant in Yangon. Walking among the beautiful colonial style buildings and visit 2000 year old Sule pagoda will be highlight of sightseeing. In the evening, check in hotel and take a rest at your hotel. Dinner will be at a restaurant and overnight will be at a hotel in Yangon. It will be at the end of your unforgettable wonderful birding holiday days with Travel Expert's birding team.