Birding around Yangon ( 2 Days / 1 night )
Yangon - Hlawgar Park - Moeyingyi wetland - Yangon
Day 1 . Yangon – Hlawgar – Moeyingyi by car and boat
On your arrival at Yangon International Airport, one of our company representatives will meet you to pick you up to Hlawgar National Park for about 40 minutes. We will make half day morning birding at Hlawgar park to watch Myanmar's endemic White- throated Babbler & Ayeyawaddy Bulbul (Streak-eared Bulbul), Davison's Bulbul ( Striped-throated Bulbul), Pale-capped Pigeon, Racket-tailed Treepie, Rosy Minivet, Puff-throated Babbler, Yellow-eyed Babbler, Chestnut-capped Babbler, White- crested Laughingtrush, Lesser Necklaced Laughingtrush, Dollarbird, Red-breasted Parakeed, Alexandrine Parakeed and Grey-headed Parakeed, Plaintive Cucko, Forest Wagtail, Greater and Lesser Coucals, Ruby-cheeked Sunbirds, Olive-backed Sunbird, Scarlet-backed Flowerpecker, Blue-Eared Kingfisher, Black-capped Kingfisher, White-throated Kingfisher, Common Kingfisher, Brown Crake, Lesser Whistling- duck, Common Moorhen, Red-wattled Lapwing, Oriental Darter, Little Grebe, Little Cormorant, Great Cormorant, Asia Openbill, Coppersmith Barbet, Lineated Barbet, Green-billed Malkoha, Greater and Lesser Racket-tailed Drongon, White-rumped Shama, Black-crested, Red-whiskered, Red-vented and Black-headed Bulbuls, Dark-necked Tailorbird, Common Tailorbird, White-rumped and Scaly-breasted Munias. There are about 100 species in the park.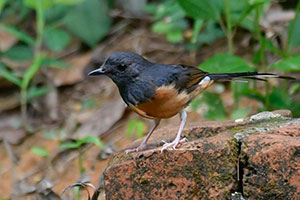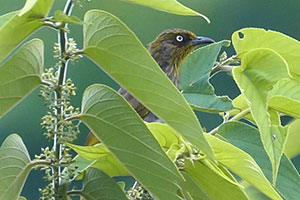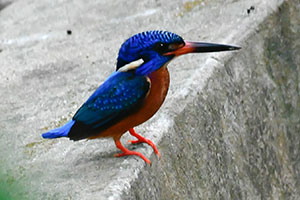 After lunch at a local restaurant, we will continue drive to Moeyingyi wetland for about one and half hours. On your arrival at Moeyingyi Boat house, check in first for a short rest and make afternoon birding in the wetland by a boat. We will see some migration bird and Yellow-bellied Prinia, Asian Golden Weaver, Glossy Ibis, Asian Openbill, Oriental Darter, Black-crowned Night-heron, Little Tern, Yellow Bittern, Cinnamon Bittern, Lesser whistling Duck, Cotton Pygmy Goose, Northern Pintail, Ferruginous Pochard, Black-capped and Common Kingfisher, Blue-eared Kingfisher, Green Sandpiper and Common Sandpiper, Wood Sandpiper, Pheasant-tailed and Bronze-winged Jacanas, Black-winged Stilt, Little Ringed Plover, Pintail Snipe, Common Snipe, White-breasted Waterhen, Watercock, Purple Swamphen and Common Moorhen, Black-shouldered Kite, Black Kite, Black-eared Kite, Western Marsh-harrier and Eastern Marsh-harrier, Hen Harrier, Pied Harrier. Over 135 species are recorded at Moeyingyi Wetland. Dinner and overnight will be at the boat house.
Day 2. Moeyingyi – Yangon by car
In the morning, we will make morning birding by boat again on the lake. After breakfast at the boat house, we will do half day birding for rest species by boat again. After birding at Moeyingyi, check out from hotel and we will drive back to Yangon. We will have lunch on the way back. On the way back, you can make some birding stops for rest species. In the evening, we will arrive at Yangon. After check in at your hotel in Yangon, it will be at the end of your unforgettable wonderful birding holiday days with Travel Expert's birding team.